The Marylebone Journal
Marlene Robinson
The Marylebone Journal
Spring 2003
&nbsp
Beth Gagnon has developed a unique concept in facials and body treatments, an approach which considers health and the condition of major organs in the body of prime importance. It would be easy to say that The Gagnon System is an interesting mix of beauty and complementary therapies, and although it is described as alternative therapy practice, this still does not give a completely accurate picture of what it is all about. Even Beth finds it difficult to find just the right name for what she does and the methods she has developed over the years. Think of a place where scientific/medical research and developments combine with natural/complementary therapies to join beauty treatments. This is the cutting edge of beauty work, but in a sanctuary of calm. There is none of that clinical, impersonal feel about the treatment rooms, surprising when you find out about the tools and techniques used.
For example, they use custom magnetic tables in all of the treatments, created by using powerful ceramic magnets covered by optical grade quartz crystals. The crystals create a piezoelectric field which combines with magnetic energy to create a force which opens up areas of blocked energy within the body. Why is this important? Because magnetic field therapy restores order in the overstressed body at 'sub atomic level' resulting in a state of deep relaxation, stimulation of circulation and assimilation of nutrients at a cellular level. Impressed? Read on…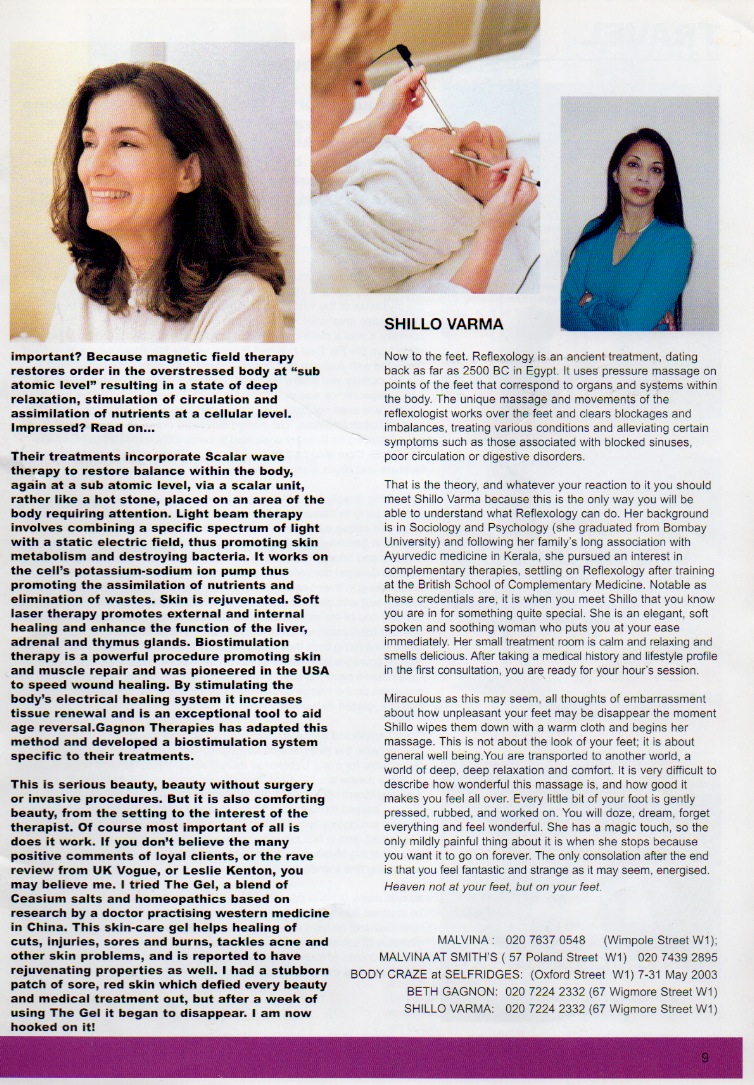 Their treatments incorporate Scalar wave therapy to restore balance within the body, again at a sub atomic level, via a scalar unit, rather like a hot stone, placed on an area of the body requiring attention. Light beam therapy involves combining a specific spectrum of light with a static electric field, thus promoting skin metabolism and destroying bacteria. It works on the cell's potassium-sodium ion pump thus promoting the assimilation of nutrients and elimination of wastes. Skin is rejuvenated. Soft laser therapy promotes external and internal healing and enhances the function of the liver, adrenal and thymus glands. Biostimulation therapy is a powerful procedure promoting skin and muscle repair and was pioneered in the USA to speed wound healing. By stimulating the body's electrical healing system it increases tissue renewal and is an exceptional tool to aid age reversal. Gagnon has adapted this method and developed a biostimulation system specific to their treatments.
This is serious beauty, beauty without surgery or invasive procedures. But it is also comforting beauty, from the setting to the interest of the therapist. Of course most important of all is does it work. If you don't believe the many positive comments of loyal clients, or the rave review from UK Vogue, or Leslie Kenton, you may believe me. I tried The Gel, a blend of Cesium salts and homeopathics based on research by a doctor practicing western medicine in China. This skin-care gel helps healing of cuts, injuries, sores and burns, tackles acne and other skin problems, and is reported to have rejuvenating properties as well. I had a stubborn patch of sore, red skin which defied every beauty and medical treatment out, but after a week of using The Gel it began to disappear. I am now hooked on it!